Total Experience (TE) encompasses all of a utility's interactions with its customers, employees, and external stakeholders. To achieve its objectives–profitability, customer loyalty, and compliance–Gartner recommended utilities seek Total Experience.
According to Gartner, TE is comprised of the following components:
*Customer Experience (CX)
*User Experience (UX)
*Multichannel Experience (MX)
*Employees Experience (EX)
Each component is optimized to achieve the utility's objectives. As such, we could weigh and add each component towards the sum of each goal. Profitability may be top of mind for an investor-owned utility (IOU) but is balanced by failure to comply with industry regulations and standards. Each of these objectives could be placed on a dashboard showing changes resulting from the various components.
Customer Experience (CX)
CX refers to how the service aligns with customers' expectations.
For example, emergent and maintenance service interruptions are expected, though it's imperative that the utility's communications plan routinely updates customers on infrastructure resiliency, immediately notifies them that the utility is "on it," and keeps customers apprised of changes in status while maintaining access to solutions. Solutions may come in the form of estimated restoration information or local resources, such as charging stations or cooling centers.
Figure 1 exposes the outage graphically and links the customer to additional information and dashboards on the mobile app.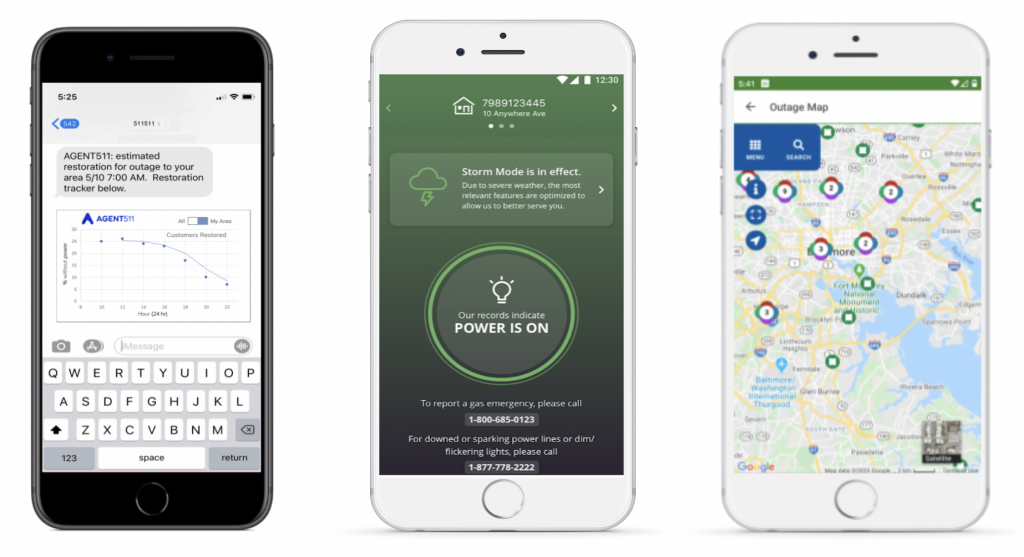 CX is not limited to service interruptions and is just as applicable to customer usage and billing. Mobile apps provide customers with direct access to their energy consumption by providing usage comparisons and insights.
For example, customers with real-time access to meter analytics and usage data can monitor consumption and proactively optimize their usage profile to budget more effectively. This can be further enhanced with text messages that nudge specific behaviors that are profitable to the utility while saving the customer money. Other similar experiences put pricing programs to use in real-time, and load curtailment—namely, providing customers with the opportunity to achieve lower costs by balancing their energy consumption pattern with system load.
This trend will continue with distributed energy resources (DERs) and electric vehicles (EVs). Customers will be able to coordinate their optimal energy mix by leveraging proactive alerts, mobile app dashboards, and linked hardware such as chargers and generation sources. The customer experience may be optimized by using engagement tools that balance capacity, load, and convenience. Consider the positive experience of an EV charging customer who is asked to accept via mobile phone that they authorize the grid to borrow energy from their EV during peak.
This exposes an entirely new opportunity for transparency, interconnectedness, and customer loyalty. What is my willingness to provide this access to my utility if I am concerned about unforeseen uses of my EV?
Today, each component (solar, EV, battery, and price signal) is deployed as a silo with its own alerts and mobile/web experiences. The utility is best positioned to deliver a seamless, consolidated, branded customer experience that combines customer preference with energy prices and energy exchanges. Customers are able to instantly respond to relevant changes in market demand with IoT devices, schedulers, and solicited mobile messaging. Some of these examples are illustrated in Figure 2:
*On a peak day, the customer's thermostat sensor informs the system that the individual is home and may not require use of the EV. The system sends a text message to the customer asking them to reply if it can purchase energy from the EV's battery.
*Energy costs are low and based upon a mobile push alert, the customer wishes to run appliances in excess of what their DER's can generate.
*On a moderate date, a customer is using some heavy equipment for a remodeling project and the neighbor has excess energy to sell at a price the utility has helped to broker using digital currency.
*The system detects the family is out during a weekday. The homeowner receives an alert that energy is at a premium and opens the mobile app to let the system know it can discharge the battery in exchange for a lower rate upon return.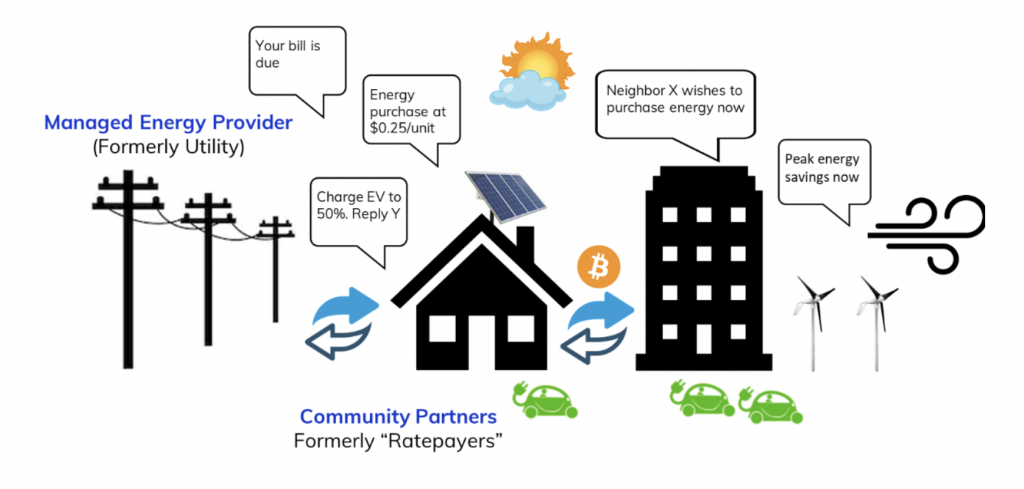 The utility's objectives are achieved when the combined ecosystem of DERs, pricing signals, DERMS, customer preferences, and communication channels are aligned with their customer engagement strategy. The objectives are best met when customers not only realize financial benefits, but take ownership in their green energy futures.
Today, by creating premier customer experiences using intelligent, branded, interactive communications and predictive analytics, utilities retain engaged customers, thus creating the utility of the future.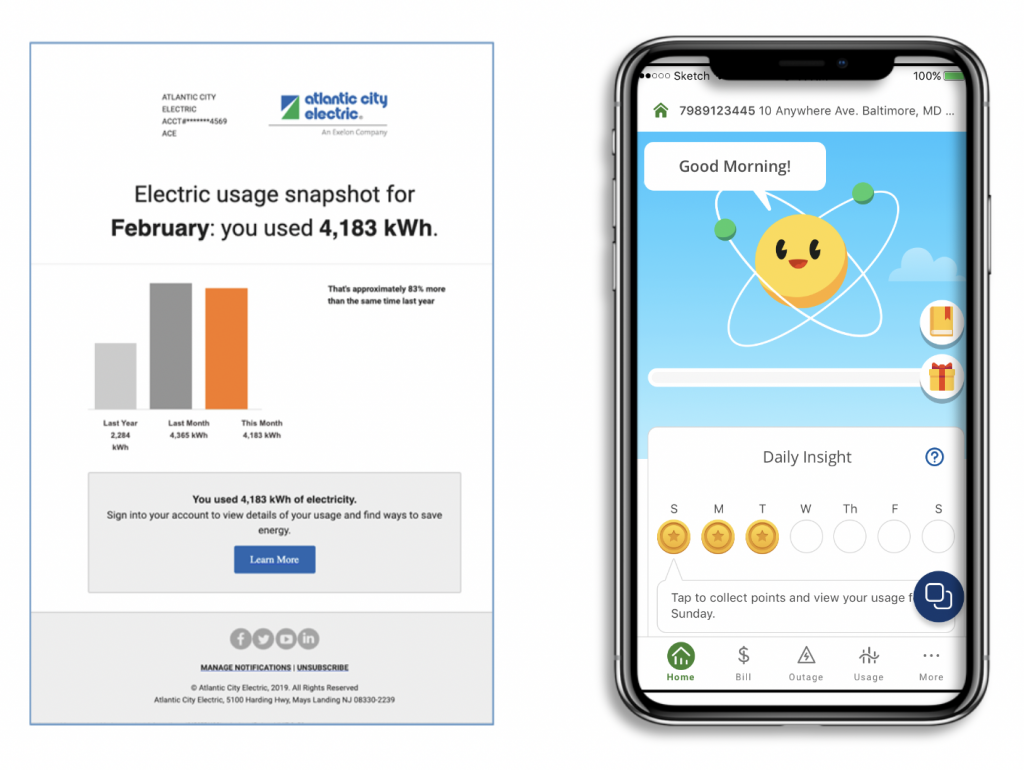 User Experience (UX)
CX is driven by quality UX. It is the seamless experience with the utility that drives the customer to adopt new services. New cloud data tools expand the utility's ability to deliver dynamic energy insights via text message. The message uses links to drive the customer to graphical informational resources on the mobile app. There, the user can not only view deeper insights, but moreover, identify ways to optimize their consumption. Gamification on the mobile app challenges customers to adopt better energy practices and socially share their involvement in these programs as shown in Figure 3.
Similarly, for multi-day outages attributed to severe weather, customer restoration predictions may change infrequently resulting in less frequent automated restoration communications to customers. As such, stressed customers who "feel left in the dark," are comforted by sending sequenced "drip" messages with graphical comparisons of area restoration activity and links to maps, mobile app status updates, and mobile information about resources and energy preparedness, similar to the screens shown in Figure 1. This UX is achieved by seamlessly identifying customers experiencing outages and using logic applied to the data to deliver an orchestrated sequence of content and messages that alleviate customer stress.
Artificial intelligence, combined with mobile apps, helps achieve peak UX by overcoming friction associated with interactive tasks, such as service starts and outage reports.
A customer starts service by calling the utility and using an interactive voice process to initiate the request; thereafter, the user receives a text message with a secure, shortened link to a mobile website. The form asks several questions and collects customer data. The customer is asked for a picture of their ID and uses the camera and website to quickly collect the requisite data. The ID is scanned and important data is verified, thus initiating the account process. Additional information is sent via text and email to begin the service and the customer is directed to the mobile app download where the site is populated with their data.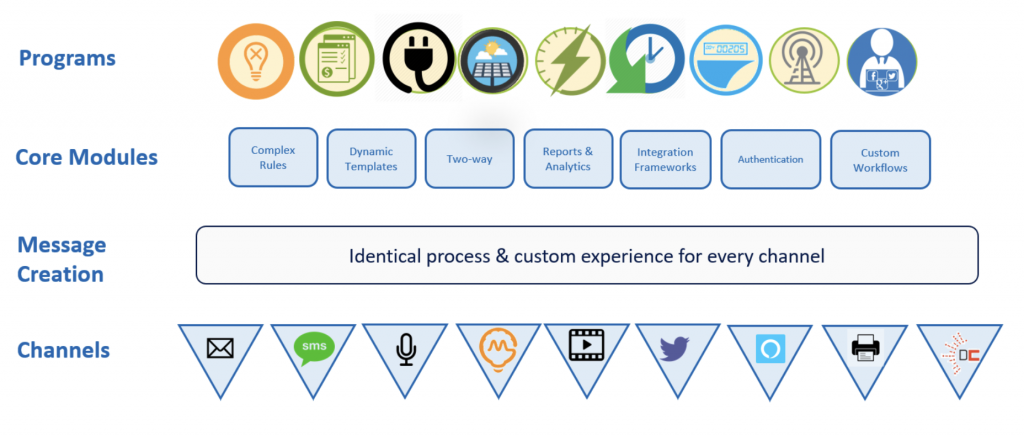 Multichannel Experience (MX)
The intention to meet customers and stakeholders where they are should also be met with seamless engagement across channels, as shown in Figure 4. In several previous examples, interactions started with a phone call before shifting to a text message and finally, to the mobile web. A successful MX is a single conversational session whereby data collected on a phone call is securely continued via text chat, and later on the form. Further, the session could have started on the web, text, or mobile app and carried to other channels to accommodate the user while maximizing the medium's strengths, as shown in Figure 5. Plain text is not especially secure, but is consistently clear and easy to use; interactive voice is not always perfect for proper names and addresses, but is great for numerical inputs and hands-free use.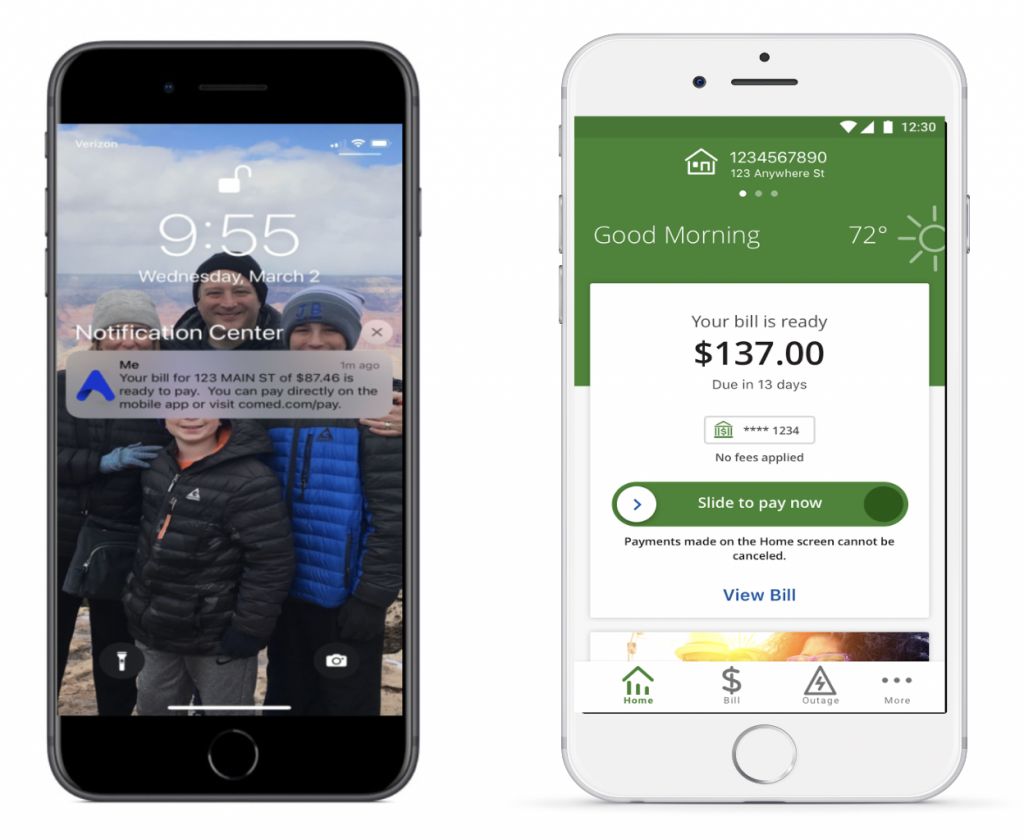 MX is especially valuable when one channel fails, such as when a voice call to the customer is unsuccessful, at which point the system uses the delivery receipt to initiate a proactive message to the mobile app. This workflow can be avoided more elegantly by routinely scrubbing customer records with mobile portability and third-party databases, by proactively and periodically asking customers to update their records via email and mobile app notifications, and lastly, by using a sledgehammer–sending calls to all channels.
Newer channels, which must be considered and have not yet achieved widespread adoption, are DERs and EVs–along with smart appliances. They still suffer from "killer apps," network effects, and incomplete user experience. However, in order to achieve loyalty and grow profitability, these devices will need to be considered communication tools–and each channel will serve as a customer preference. The user interface may be a purpose-built mobile app screen, but in delivering MX, they must be aggregated and operate seamlessly.
The utility's mobile app should include the ability to establish preference settings across these channels and serve as a dashboard to nudge the customer toward satisfying and profitable energy behaviors. Utility programs such as load shed, real-time pricing, and even outage management will need to leverage customer preferences around DER usage and EV charging to optimize the system and keep customers informed about system activity. Herein, the purpose is to avoid customer disruption, impose range anxiety, and of course, avoid making the customer feel helpless due to actions independently selected by the grid.
Employees Experience (EX)
The delivery of electrons, gas, and water across poles, wires, and pipes has been the lifeblood of the utility. But like other infrastructure providers of the past, the utility's future may be that of the managed service provider, employees, and intelligent computer systems that take center stage.
With renewables, DERs, and even reclamation, some utilities are starting to look at what the future has in store. Today's employee shortages and the drive for higher wages require executives to consider the role employees play, particularly those in customer service and on the front lines as brand ambassadors and engagement specialists. As a managed service provider, utilities must be driven to differentiate products and services and win customer loyalty.
This is where employees come in.
Providing the tools to work autonomously on complex issues allows employees to find meaning in their work and believe they can make a contribution to the organization. Studies have shown that employees are more likely to stay in an organization where they believe they are contributing in a meaningful way. This is often not the case in front-line customer service organizations, but supporting an employee's sense of well-being, value, and importance is crucial for retaining your workforce, especially in today's tight labor market.
Employees and their customers form a critical relationship that is increasingly important to the success of any organization. More specifically, customer satisfaction and employee engagement are inextricably intertwined and are part of an important feedback loop that can detract from or enhance profitability.
This interaction has been coined the Engagement-Profit Chain by Kevin Kruse as described in Figure 6.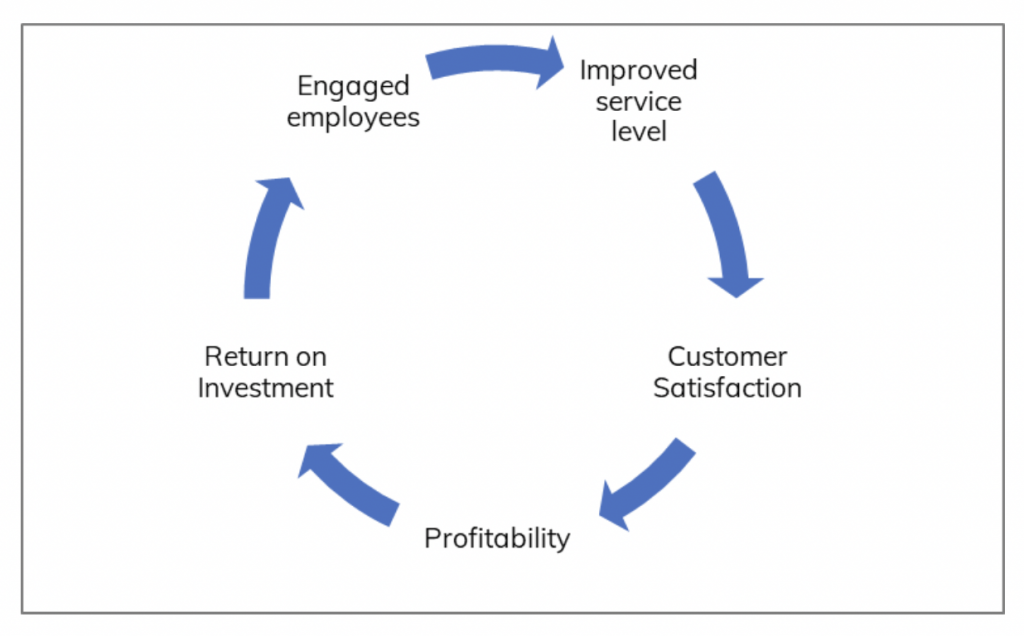 Employees must be trained using modern, seamlessly integrated tools to complete their work. This includes automation to avoid redundancy and increase efficiency. One example is scheduled and emergent maintenance which, until today, has been managed with spreadsheets and uploads. Every day, utility teams create spreadsheets of those impacted by infrastructure work and tree trimming, and proceed to filter and upload those to additional systems. The same occurs frequently for severe outages whereby lists of customers are manually filtered based upon restoration, duration, and location. This is fixed with outage dashboards that allow employees to schedule events, select filters, deploy predefined templates, and initiate communications automatically across customer preferred channels. Even traditional print pieces can be automatically dispatched if time permits.

This is facilitated by new cloud platforms, modern API services, and rapid, agile development paradigms. Projects are now arranged into more manageable pieces that fix time and budget to achieve priority objectives. This also applies to customer self-service via mobile app, web, and even text conversational chat. Initially, the utility can define narrow objectives that overcome pain points, such as outage reporting or bill payment, and proceed to heavier lifts such as service starts. Customers have become accustomed to responsive, personalized, and targeted communication. They want immediate access to information at any time of the day or night, as well as prompt solutions to their problems or concerns. How can a utility meet this elevated expectation of service? This is where digitization and new technology can help.
Taking advantage of this technology allows a utility to:
*Offer convenient self-service access to information with options for conducting business and completing transactions during time periods that are convenient for the customer.
*Provide proactive and targeted communications that anticipate individual needs and help customers manage their time.
*Enable immediate and responsive access to someone who has the information and authority to help them with any issue or concern.
Self-service offers the customer the freedom to independently, on their timeline, interact with the utility. If the customer cannot achieve their objective, they undergo a "disentanglement" process that seamlessly incorporates an employee concierge who may or may not be visible, but helps the customer to complete their transaction. The employee's role is that of an expert advisor and not that of an order taker. In this way, customer and employee experiences are intertwined.
The impact on employee engagement is threefold. First, employees only deal with the more complex issues requiring keen knowledge, the ability to relate, thoughtful problem-solving, and decision-making. Second, fewer calls present an opportunity for cross-training or other growth opportunities. Finally, employees are free to develop new business relationships.
Summary
Total experience can be achieved by considering the role each component plays in achieving the utility's overall objectives.
A quality user experience across channels that drives automation and employee satisfaction is likely to use customer experience. Furthermore, engaged customers using the channels available to them drive profitability and employee experience.
The utility of the future requires these objectives be met in order to maximize loyalty in a more competitive energy marketplace. Additionally, system optimization across devices demands engagement and orchestration. At its core, deep, intelligent customer communications–especially mobile–will help drive sustainable behaviors. The platform must continue to learn and engage to deliver meaningful results over time.
About AGENT511
AGENT511 is a privately-owned, communications software company founded in 2007. The company's platforms help utilities and public sector contact centers maximize stakeholder satisfaction and loyalty, increase accurate service delivery, and reduce friction. Its platforms such as REACHTM, ENFORCETM, and TEXTBLUETM deliver timely, personalized multichannel multimedia communications that are seamlessly integrated with the organization's information systems. Our team is continually innovating and bringing leading-edge solutions to market. We take pride in delivering quality, on-time and on-budget products and professional services.
About Mindgrub
Mindgrub is a privately-owned, full-service digital agency founded in 2012. We take pride in helping our clients realize any website or application that the mind can conceive without bias towards platform or user device. Leveraging our expertise in branding, strategic marketing, user experience, visual design, engineering, and launch implementation, Mindgrub has constructed digital campaigns, responsive websites, mobile applications, social sites, games, and wearable technologies. We strive for perfection in the work we do, making every asset work seamlessly together, and building brand relationships in an increasingly digital world.
Mindgrub has built over 100 mobile applications and over 175 websites and portals for its clients.
---
Copyright © 2022, Good Egg Media LLC DBA AGENT511 and Mindgrub
Northbrook, Illinois, and Baltimore, Maryland USA. All rights reserved. This document is the property of AGENT511 and Mindgrub. It contains material distributed under license agreement. Reproduction or use other than as provided for in the license agreement is prohibited.
Information contained herein consists of AGENT511 and Mindgrub copyrighted material and, as indicated, copyrighted material furnished by 1215 East Fort Avenue, Suite 200, Baltimore, MD 21230. third party suppliers, which is used herein by permission of said suppliers.
Published by AGENT511, 425 Huehl Road, Suite 11B, Northbrook, Illinois 60062 and Mindgrub, 1215 East Fort Avenue, Suite 200, Baltimore, MD 21230.